Tasty Vegan Fish Sticks
I remember the days of enjoying fish and chips. I admit, they were fried and did taste good, until I re-newed my mind with the desire to be well and healthy all my days.
I have lost the desire for many of those old choices and have walked into a world of new tastes and desires. In fact, the thought of fish and chips never crosses my mind. But then I stumbled across a tasty recipe by Amie Sue Oldfather, a raw food chef. Though slightly modified, the recipe is a winner.
The recipe calls for no oil and of course, is not fried.
I encourage you to give these tasty vegan fish sticks a try. I have also included a couple ideas for vegan fish sauce below.
Vegan Fish Sticks Recipe
Equipment Needed: Food Processor and Dehydrator
Yield: approximately 15 fish sticks
Ingredients:
1/2 cup raw almonds, soaked over night
1/2 cup raw sunflower seeds, soaked over night
1/4 cup celery, minced
1/4 cup red onion, minced
2 tablespoons fresh lime juice
2 1/8 teaspoons kelp powder
1/2 teaspoon gluten-free, wheat-free Tamari (San-J brand can be found at most health food stores)
1/2 teaspoon sea salt
1/2 teaspoon dried dill weed, or 1/2 tablespoon fresh dill weed
1/4 to 1/2 cup water (add last, mixture to moisture enough to stick together to form fish sticks, but not watery)
Fish Sticks Breading Mixture:
1/4 cup raw cashews
2 tablespoons ground flax seed
1/2 teaspoon smoked paprika
1/2 teaspoon sea salt
1/2 teaspoon nutritional yeast
1/4 teaspoon fresh ground black pepper
Optional: 1/4 teaspoon cayenne pepper
Preparation:
Rinse and drain soaked almonds and sunflower seeds, drain and rinse them. Place them in the food processor, fitted with the "S" blade.  Process until they break down to a paste-like mixture.
Add the celery, onion, lime juice, kelp powder, tamari, salt and dill. Process until blended together. You will need to stop and scrape the sides down periodically.
While the food processor is running, add just enough water to make mixture/paste nice and moist. Transfer to a bowl.
To make the breading, grind the cashews in a food processor or small coffee grinder, to a small crumb size. I prefer to use a small coffee grinder.
Grind fresh flax seeds into powder using coffee grinder. Add the ground flax seeds, paprika, salt, pepper, and nutritional yeast and mix together. Put the breading mixture in a rectangular container or bowl for coating fish sticks.
Measure out 2 tablespoons of fish mixture and shape into a fish stick, then coat with the breading and place on a dehydrator mesh sheet.
Dehydrate at 145 degrees F for 1 hour, then reduce to 115 degrees and continue drying for 4 -6 hours.
Store leftovers in the fridge for up to 5 days. You can reheat them by placing them back in the dehydrator for a while.
Vegan Fish Sauce Recipe – Tartar and Ketchup
Back in the day when I use to eat fish and chips, I always preferred dipping the fish into ketchup, but I also know that many prefer and enjoy tartar sauce.
Yes, you could get ambitious and make your own ketchup, but if time is a factor, use organic ketchup, such as you can find in a Whole Foods or Trader Joes. To spice up the ketchup, add a bit of hot sauce, cayenne powder or smoked paprika.
As far as tartar fish sauce is concerned, here is a quick recipe:
Using a food processor, process the following ingredients into a sauce like consistency:
1/2 cup cashews
1/4 cup water
1/4 cup sweet pickle relish (avoid pickle relish products that contain artificial coloring)
2 tablespoons Braggs apple cider vinegar
1/2 to teaspoon mustard powder (go slow and taste test for desired flavor and intensity)
In addition to, or in place of mustard powder, add a 1/4 to 1/2 teaspoon Dijon mustard and taste test.
1/4 teaspoon garlic powder
1/4 teaspoon Himalayan salt
1/4 teaspoon black pepper
2 green onions, white part only, minced
If you've enjoyed this post, Vegan Fish Sticks and Vegan Fish Sauce, leave a comment below: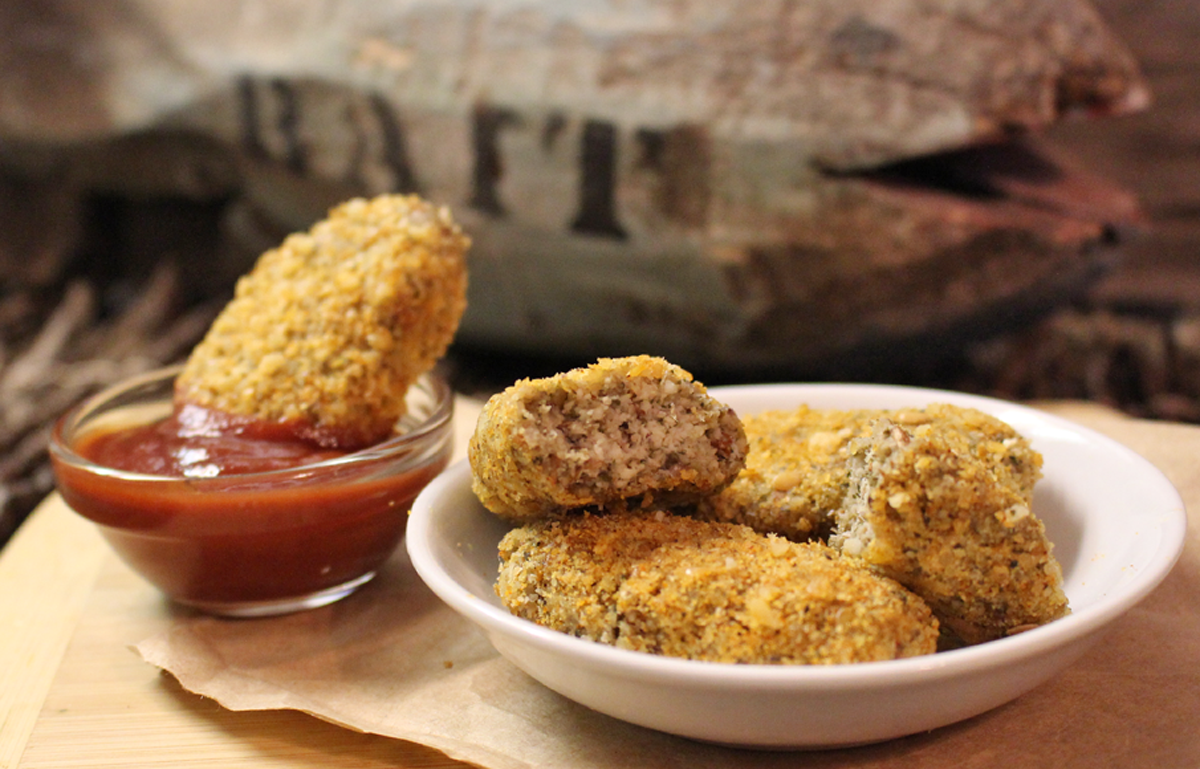 ---
---
David spent 27 years in the mortgage/real estate business, and currently holds a financial life license, but for over 31 years one of his passions has been natural health and prevention of disease. For 31 years he has lived a natural food lifestyle. He is an author, and certified as a health and transformational coach, and plant-based chef. Today his main focus is to bring hope into a person's life through various resources, proven to reverse aging, elevate health, maximize thought life and emotions, and live with unparalleled, fully persuaded faith!
"It breaks my heart to see people suffering, or aging faster and living in pain and limitation. Or to see someone who has fallen into the rut of living, unable to reach their full potential. God has designed us to live amazing lives, and sometimes it just helps to find someone who will come along side and provide the hope and direction needed at that moment."
Information and material found on this website is for informational purposes only, and not intended to provide medical advice, nor should it be construed as such. The information is NOT intended as a substitute for the advice provided by your physician or other healthcare professional, or any information contained on or in any product label or packaging. Do not use the information provided on this site for diagnosing or treating a health problem or disease, or prescribing medication or other treatment. All content, including text, graphics, images and information available on this site is for general informational, entertainment and educational purposes only. Products, or information, are not intended to diagnose, treat, cure or prevent any disease. The content is not intended to be a substitute for professional diagnosis or treatment. Always speak with your physician or other healthcare professional before taking any medication or nutritional, herbal or homeopathic supplement, beginning any diet program or exercise program, or using any treatment for a health problem. If you have or suspect that you have a medical problem, contact your health care provider promptly. Do not disregard professional medical advice or delay in seeking professional advice because of something you have read on this website. The author of this site is not responsible for any adverse effects that may occur from the application of the information on this site and encourages you to make your own healthcare decisions, based on your own research and in partnership with a qualified healthcare professional.