Sprouted Buckwheat Groats
How to Sprout Buckwheat Groats, and Turn them into Buck Crunchies!
Buck crunchies are sprouted buckwheat groats that have been dehydrated.
Buck crunchies are great additions to various recipes: When making chocolate, add some in that you've got a nestle crunch. I also use them in my low sugar, protein bars, and oftem mix them with cacao nibs, pumpkins seeds, and a few goji berries for a great snack treat.
Buck Crunchie Recipe
Soak and sprout: begin by placing a cup or more buckwheat groats in a glass jar, cover with water and allow to soak for 4-8 hours.
Place in Colander: Pour entire contents of glass jar in a colander and rinse well.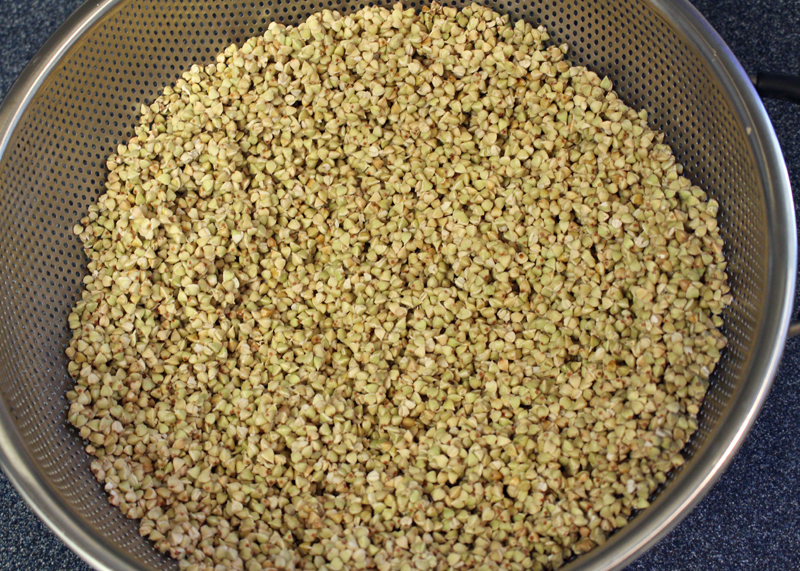 Sprout Buckwheat Groats: Leave groats in colander and allow to sprout … usually takes a couple days. I cover colander with a paper or kitchen towel. I will usually rinse once during this phase.
Dehydrate: I usually remove some of the sprouted buckwheat groats and place in a jar and use over salads or in non dairy yogurt. The remaining I spread on a teflex dehydrator sheet and dehydrate at 108-110 degrees for approximately 6-8 hours, or until crunchy. .
Storage: I Store in a glass container in my pantry … they store for quite some time, if they eaten up rather quickly!
If you've enjoyed this post, Sprouted Buckwheat Groats, leave a comment below:
---
David Cooley
Certified Health Consultant
David spent over 27 years in the mortgage/real estate business. But 33 years ago, God re-directed his life and placed in him a passion for natural health and prevention of disease. Today, David is a certified health consultant, and for the last 33 years has lived a natural food lifestyle and discovered simple, key components for living a lifestyle of health and vitality. One of the early things David realized is that disease was NOT the result of a drug deficiency. And that everything we think, say, and consume or are exposed to in some manner or another either supports our cellular structures or causes them to age faster and breakdown.
David believes there is nothing more important than to live within God's blueprint for one's life. Each of us has been given specific gifts, talents, and purpose that are to be lived out on a foundation of faith in Him and His Word.
"It saddens me to see people suffering, frustrated, or discouraged with life … and fall into the rut of living, unable to reach their full potential: spiritually, emotionally, physically, and financially. I think it's also a travesty in this country people that are not educated in personal health care, nor in how to protect their privacy, assets, and often liberties. God has designed us to live amazing lives, and sometimes it just helps to find someone who will come alongside and provide the hope and direction needed at that moment. It's about bringing together your personal and business aspirations into a balanced vision for your life, aligned with His Word."
"Bottom line, what balance do you need to bring to your life, what type of life do you desire to create that enables you to be all you can be and live a life with no regret – a life that produces a faithful servant?"
To learn more about David, go to Image What Could Be.
Information and material found on this website are for informational purposes only, and not intended to provide medical or legal advice, nor should it be construed as such. In regards to any health information, it is NOT intended as a substitute for the advice provided by your physician or other healthcare professionals, or any information contained on or in any product label or packaging. Do not use the information provided on this site for diagnosing or treating a health problem or disease, or prescribing medication or other treatment. All content, including text, graphics, images, and information available on this site is for general informational, entertainment and educational purposes only. Products, or information, are not intended to diagnose, treat, cure or prevent any disease. The content is not intended to be a substitute for professional diagnosis or treatment. Always speak with your physician or other healthcare professionals before taking any medication or nutritional, herbal or homeopathic supplement, beginning any diet program or exercise program, or using any treatment for a health problem. If you have or suspect that you have a medical problem, contact your health care provider promptly. Do not disregard professional medical advice or delay in seeking professional advice because of something you have read on this website. The author of this site is not responsible for any adverse effects that may occur from the application of the information on this site and encourages you to make your own healthcare decisions, based on your own research and in partnership with a qualified healthcare professional.